Today is Saturday July 16, 2022
Got a couple shows in July to tell you about. The first one is at Twelve Keys Saloon on Wednesday July 20th, 2022. Located at 4719 Andrew Jackson Parkway Hermitage, TN
Three rounds of three writers starting at 7 p.m. - 10 p.m. Nettie, Gwen Holt and Jimmers Sandberg are playing the 8 p.m. round. Hosted by Dave Lenahan from Songwriter Connection Podcast
https://davelenahanmusic.wixsite.com/songwriterconnection
This is a great little venue in Hermitage dedicated to music, songwriters and musicians - and they have an amazing staff, great food and drinks, free parking and no cover. Always a fun time at Twelve Keys Saloon!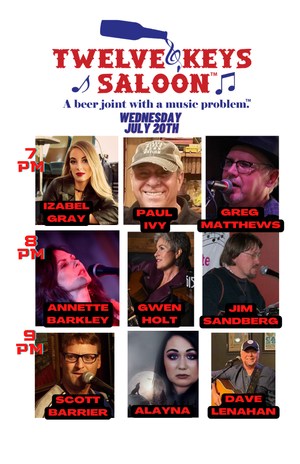 The second show is at The Bowery Vault on Saturday July 23rd, 2022! Located at 2905C  2nd Floor Gallatin Pike Nashville, TN 37216
The Nashville PieHoles are playing with Jeremy Shields and Gwen Holt. The show is 9 p.m. - 10:45 p.m. (30 minutes per performer) The Nashville PieHoles play 9:40 p.m. - 10:10 p.m.
The Bowery Vault is also a unique clothing shop as well as a beer and espresso bar - fashion / music / drinks. That's Cool! Must be 21 years old to attend, 1 drink minimum, limited seating and no cover.
Looking forward to both July shows!